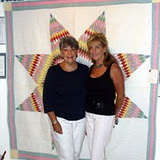 ByronFest Quilt Show
Friday, Saturday and Sunday, July 8, 9, 10, 2016
Area quilters are invited to participate in the Byron Museum's 28th Annual Quilt Show. The event is held July 8 through 10 during ByronFest. Quilt Show Committee Chairman and sponsor Wanda Cacciatore invites you to volunteer as a greeter or to help hang or take down quilts.
The museum is seeking area quilters and collectors to display their fabric works of art and be part of this event. Registration is open during normal museum hours beginning Wednesday, June 1 and concludes Wednesday, July 6 from 3:00 to 7:00 PM when hanging begins. QS 2015 Registration form Entry in the Quilt Show costs $5.00 per article, but Just for Show entries are free. Quilt Show hours: Friday, July 8 5-8pm, Saturday, July 9 10am-7pm, Sunday, July 10 11am-2pm.
Items will be selected for awards by a judge, and viewers will also have an opportunity to vote on their favorite quilt or wall hanging to win a "People's Choice" award. The main categories are: Quilts, Antique, Wearable Art, Wall Hangings, and Just For Show. Cash Prizes and blue ribbons will be awarded for first place in each of 10 categories and ribbons awarded to second and third place winners.
Call 815-234-5031 or email director@byronmuseum.org for more details.