Bring your tool belt…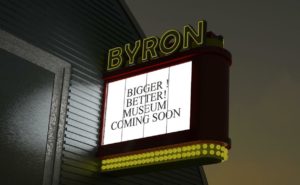 The Byron Museum is fixing up the old theater building and we need your help with remodeling projects that include painting, electrical and light carpentry.
Follow the theater renovations…
https://www.facebook.com/pg/Byron-Museum-of-History-and-Lucius-Read-House-111324608885960/photos/?tab=album&album_id=1365922170092858
For Immediate Release

Contact:   Marian Michaelis, Executive Director
Phone:      815/234-5031
Email:       director@byronmuseum.org
Volunteers Build Museums
Byron Museum of History is enlisting volunteers to help with the renovations to the Byron Theater building. This is an opportunity to perform manual labor for pizza. Bring your tool belt if you have one and play along as we bring these buildings into the twenty-first century.
During the summer and fall of 2017, anyone with  building experience is invited to help out on most Saturdays, from 10:00 am to 3:00 pm. Volunteers and staff are also working on this project on some weeknights after 3:00 pm.
Almost all of the updates done by the American Legion were accomplished by community volunteers in the 1970s. The museum's commissioners are sure that the needed work can get done if the local talent takes an interest in supporting the museum's efforts to recreate this gem. Special thanks to those hard workers that have been helping with this project.
The museum has gotten a lot of attention since the theater marquee was placed back on the building on July 10th, just in time for ByronFest. The theater hosted the annual quilt show for the first time and everyone got to see the plans and progress made so far.
Originally erected as the Byron Theater in 1948, this movie house showed films until 1963. By 1965 it was turned into an auto body garage and then the school bus depot until the Legion took it over in 1968. Since then, many a dance, wedding, and birthday have been celebrated in this venue. Now, in 2017, it is time to update the infrastructure of the 1970s renovations and set this building to new purpose.
The Byron Museum District purchased the Byron Theater in 2015 and is planning to remodel the space over the next year. Many updates and repairs are needed inside and out, we are starting with the outside. This initial phase focuses on the facades of 110 and 116 North Union Street, bringing back the style of the original theater.
Follow the progress on Facebook. Interested parties can call the museum at 815-234-5031 or email director@byronmuseum.org to arrange the best time to help. Byron Museum District is open Wednesday-Saturday 10:00-3:00 byronmuseum.org
The mission of the Byron Museum of History is to create an awareness of and appreciation for the historical, cultural and commercial development of the Byron area through a commitment to preservation, resource management and display of historical artifacts for public benefit. "Preserving our past for our future"